Unparalleled Commercial Advocacy | Dedicated Major Project Expertise
Rose LLP was formed by eight experienced litigation partners with a view to providing the highest calibre of legal representation on significant and complicated construction and commercial matters in a boutique setting that affords greater flexibility for clients and fewer conflicts of interest.
Our lawyers practice in all aspects of construction, commercial dispute resolution and commercial insurance. We have been successful in prosecuting and defending complex claims for significant players in the oil and gas, construction, financial services and manufacturing industries across Canada and around the world.
Our lawyers have taken leading trial and appellate roles, including Supreme Court of Canada references, multiple billion-dollar disputes arising from oil and gas facilities transactions and pipeline development, as well as precedent-setting litigation involving rights of first refusal, oil and gas leases, and mining development in the Canadian Arctic.
We have assumed key advisory and drafting roles on complex multi-billion dollar energy and infrastructure projects. As project counsel, we craft and negotiate detailed, tailored engineering, procurement and construction contracts. We also provide overarching strategic advice to guide these mega-projects to successful completion.
The partners of Rose LLP have over 200 years of combined experience in complex disputes and construction projects. Our targeted approach to legal service delivery and boutique setting offer an unrivaled combination of expertise, specialization and flexibility.
Our lawyers are a hand-picked group of leaders in their areas of practice, and our firm has been consistently identified as one of the best sources of construction and litigation representation in the country.
Immediately after its first year of operation, Rose LLP was recognized by Chambers Global, the most respected independent lawyer and law firm ranking body in the world, as one of the top 5 best construction law firms in Canada. We are the only Chambers-recognized firm whose construction practice is focused on projects and disputes in Alberta and Western Canada, which reflects our commitment to being an industry leader in this jurisdiction. In addition, partners Lowell Westersund and Jane Sidnell (Construction) and David Wachowich, Matthew Lindsay, Brian Foster and Phil Scheibel (Dispute Resolution) were acknowledged in the 2014, 2015 and 2016 Chambers Guide for their individual reputation and ability.
Our lawyers have also been repeatedly recognized as leading practitioners by Lexpert and other industry publications. Two of our construction partners – Lowell Westersund and Jane Sidnell – are governors of the prestigious Canadian College of Construction Lawyers, while Phil Scheibel has been inducted as a fellow. David Wachowich and Jim Rose have been inducted as fellows in the American College of Trial Lawyers, an honour bestowed on North America's top litigators.
Our depth and calibre of top legal talent is unmatched – our lawyers are armed with targeted knowledge and experience and are capable of providing practical and precise direction on even the most difficult issues.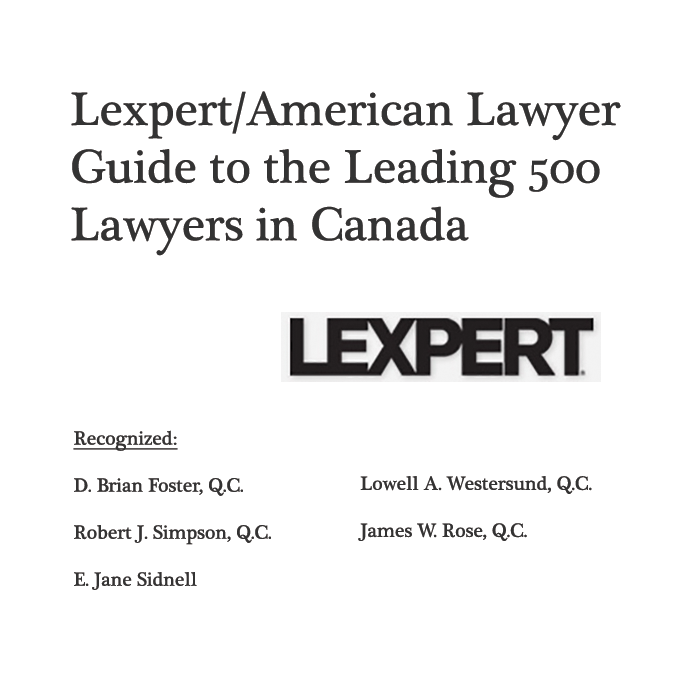 Construction
Commercial Litigation
Commercial Insurance
Rose LLP
Suite 810, 333 5th Avenue S.W.
Calgary, AB, T2P 3B6
Canada
Phone: (403) 776-0500
Fax: (403) 776-0501
Office Hours:
8:30 - 4:30 M-F